Environment
Environment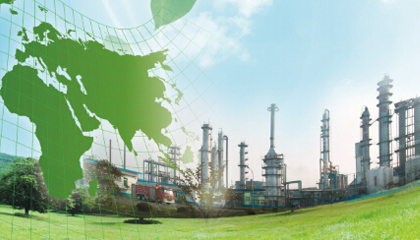 Regarding "Create Green Company, Be a Global Citizen" as the mission, ZhongrongXinda Group always grabs the primary task of green and environmental protection and energy conservation and emission reduction. It invests huge investments continuously in constructing environmentally protective facilities like desulfurization and denitrification, waste heat recovery and sewage treatment, etc., obtaining multiple benefits of economy, society and environmental protection.
In 2016, the first domestic stable running coke oven smoke medium-low temperature SCR denitration device was put into use formally. TiexiongXinsha became the coking enterprise with the lowest nitrogen oxide emission concentration across the country. The first domestic double ammonia (ammonium) desulfurization and denitrification integrating tower constructed by Tiexiong Metallurgy had its trial run in November. Desulfurization and denitrification and coking technology combine together perfectly, which can meet the requirements of the country on the emission of coke oven smoke for a long time in the future. At the end of 2016, dry quenching waste heat power generation project of domestic independent research and development and the largest processing scale was put into operation. The project has great strategic significance on energy conservation and emission reduction, increasing resource comprehensive utilization of coking by-products and promoting the enterprise to transform to fine coal chemical industry.
For promoting the energy conservation and emission reduction of the country and let more enterprises benefit from the successful practice of ZhongrongXinda, TiexiongXinsha established Shandong TiexiongChenxi Environmental Engineering Co., Ltd. jointly, opening up a new battle line and new profit increasing point in the environmental protection industry. As the fast promotion of the projects under construction and the contract signatures of more projects, the green concepts of the group will go to the whole country together with the technical services.